Carbon fiber composites digital caliper for measuring objects up to 150 mm.

This is our favorite tool! We use it almost daily, to measure screws, drill bits, milling cutters, holes, block material and parts. It is very accurate.

- Made of extra strong carbon fiber composites.
- Minimum scale to read: 0.1 mm / 0.01 inch.
- Battery required: SR44 / LR44 1.5V or CR2032 (this battery is not included in the package).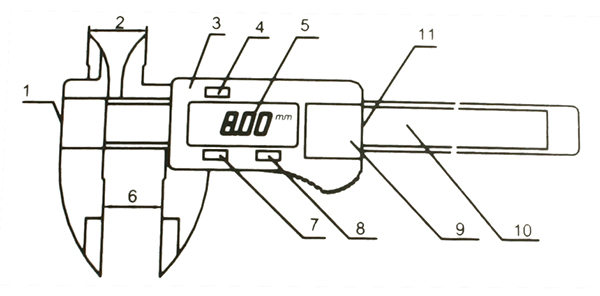 1. Step measuring face
2. Inside measuring jaws
3. Cover
4. Millimeter/inch setting
5. LCD display
6. Outside measuring jaws
7. Power ON/OFF
8. Reset
9. Battery cover
10. Scale

Specifications and functions


Measuring range: 0-150 mm, 0-6 inch.
Resolution: 0.1 mm, 0.01 inch.
Repeatability: 0.1 mm, 0.01 inch.

Maximum measuring speed: 1.5 m / sec, 60 inch / sec.
Display: LCD display.
Power: one battery, SR44 / LR44 1.5V or CR2032, flashing display warns for an empty battery.
Operating temperature: 0 to 40 degrees celsius.
Storage temperature: -20 to +70 degrees celsius.
Influence of humidity: not important within 0 to 80% of relative humidity.